Situated in an area of outsanding natural beauty, Kilnsey Trekking and Riding Centre is the perfect place from which to explore the stunning scenery, natural wildlife habitats and rich heritage of the Yorkshire Dales National Park on horseback. We offer a variety of riding holidays ranging from single day trail rides up to a week at time, where you will travel through the Yorkshire Dales on ancient green lanes and bridle paths that have been trodden by horses for hundreds of years.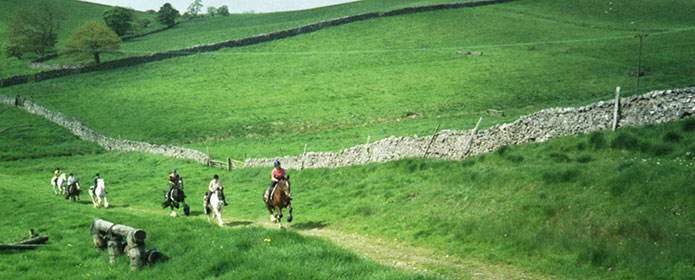 Riding Holidays
Our horse rides (or hacks) are suitable for intermediate riders and advanced riders. Our hacks usually consist of smaller groups than a trek. If you can hold your position in a canter, then a ride is a great way to enjoy the countryside and explore the Yorkshire Dales National Park.
Below are just a selection of rides available on our horse riding holidays at Kilnsey Trekking and Riding Centre. If you would like to book one of our holidays, find out about other treks and rides that are available or discuss a bespoke requirement, then please get in touch. You will find our contact details on the Contact Us page.
More information and booking details can be found on our Bookings & Prices page.
Ghyll Ride
A chance to ride the low-lying pastures of the Kilnsey Estate – you will see the old 'clapper bridge' and ride under Cool Scar – a miniature Kilnsey Crag! And across the valley, a superb view of the real thing.
Level: Intermediate
Duration: 1 hour
Outgangs
This ride crosses the Wharfe Valley from Conistone with glorious view of Kilnsey Crag; then past the old sheepfolds used by Cistercian Monks in the 14th Century and a prehistoric stone circle.
Level: Intermediate
Duration: 1 hour
Chapel House Laithe Ride
Ride through Chapel House woods, and the house, which was formerly a grand guest house. Perhaps you will hear the ghost which is reputed to haunt the back drive – a coach and four, usually heard at midnight! Ride past the Laithe in the meadows which are the ponies winter grazing, and through the stream before returning to the centre.
Level: Intermediate
Duration: 1 hour
Limestone Pavement
See the grykes and troughs of the limestone pavements left by the glaciers and sculpted by natural erosion. This is the only area in the UK with these amazing features.
Level: Intermediate/Advanced
Duration: 1.5 hour
Kilnsey Moor
Whilst on this ride you will come across evidence of mine shafts sunk in the early 20th century to test for the possibility of lead mining.
Level: Intermediate/Advanced
Duration: 1.5 hour
Kelber Ride
Follow the old moor road, known locally, as Scotgate lane, used for centuries by the turf cutters. Lime kilns and limestone pavements feature on this ride with views of Barden Fell, Rylstone Cross and Cracoe Fell. Magnificent views over unspoilt countryside and a chance to see a lot of different wildlife, including red kite, buzzards and many different breeds of sheep.
Level: Intermediate/Advanced
Duration: 2 hour
Mastiles Lane Ride
The Mastiles Lane Ride takes the old Drovers Road across Kilnsey Moor following in the footsteps of the old shepherds and before that the monks who inhabited Kilnsey Grange. Evidence of an Iron Age settlement is visible and on a clear day Pendle Hill can be seen.
Level: Intermediate/Experienced
Duration: 2 hours
Bordley Ride
As the Mastiles Ride above, with the addition of visiting the hamlet of Lea Gate, a farm at the very head of Malhamdale..
Level: Intermediate/Experienced
Duration: 3 hours
Full Day Rides
These rides take many different routes visiting amongst places, Grassington lead mines, Arncliffe village (home of the Water Babies), Malham village and Tarn and sometimes Semerwater and Bainbridge. Often, we stop at a tea room or pub for lunch/refreshments, but you can always bring a packed lunch if you prefer.
Level: Experienced
Duration: 6 hours