At Kilnsey Trekking and Riding Centre we offer pony treks and horse rides for people of all ages and ability. Our riding centre is open seven days a week and we welcome family groups, school groups, activity holidays and individuals.
Kilnsey Trekking and Riding Centre is situated in the Wharfedale Valley near Skipton, Malham and Harrogate in the middle of the Kilnsey Park Estate, where we have miles of low-lying farmland, moorland, country lanes, green lanes and bridle ways to discover on horse back. With such a large area of beautiful countryside on our doorstep, we can cater for all your pony trekking and horse riding requirements.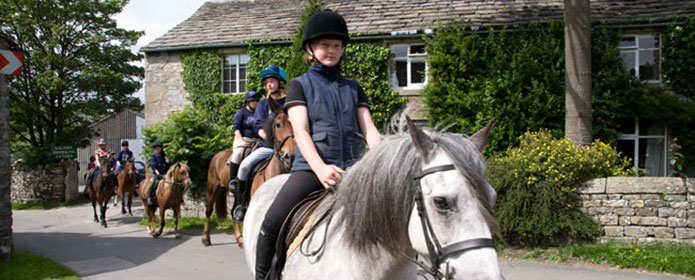 Pony Treks
Our treks are suitable for people with no riding experience what-so-ever, and are ideal for the beginner and novice rider. Our pony treks take place at a walk and are led at the pace of the least experienced rider in the group. There can be up to eight or ten riders in a trek. If you've not been horse riding before or are just finding your way in the saddle, then this is the best choice for you.
Below are just a selection of treks available at Kilnsey Trekking and Riding Centre. If you would like to book one of these rides, find out about other treks and rides that are available or discuss a bespoke requirement, then please get in touch. You will find our contact details on the contact us page.
Booking details and prices can be found on our Bookings & Prices page.
Please note: Children of 6 years old and under must be led on the pony by a parent or suitable adult. Adults leading or walking with a trek should wear suitable footwear.
River Trek
The River Trek follows the path of the river Wharfe as it meanders gently down the Wharefdale valley towards Skipton. Youngsters may have the chance to spot some of the wildlife that makes this area of the Yorkshire Dales so enchanting. The River Trek is an ideal introduction to horse riding for small children from the age of four upwards. (Children of 6 years old and under must be led on the pony by a parent or suitable adult.)
Level: Beginner
Long River Trek
The Long River Trek follows a similar path to the River Trek but is a longer ride for those beginners that are a little more adventurous. (Children of 6 years old and under must be led on the pony by a parent or suitable adult.)
Level: Beginner
Cool Scar Trek
The Cool Scar Trek starts through the low lying pastures of the Kilnsey Estate, with magnificent views of Kilnsey Crag. It crosses the old 'Clapper Bridge' dating back to medieval times, and climbs under Cool Scar, a miniature Kilnsey Crag.
Level: Beginner
Duration: 1 hour
Outgang Trek
The Outgang Trek crosses the Wharfe Valley from Conistone with glorious view of Kilnsey Crag. This trek passes the old sheepfolds used by Cistercian Monks in the 14th Century and a prehistoric stone circle.
Level: Intermediate
Duration: 1 hour
Old Pasture Trek
The Old Pasture Trek climbs up above the village of Conistone to the grykes and troughs of the limestone pavements left by the glaciers of the last ice age and sculpted by natural erosion. The North Yorkshire Dales is the only area in the United Kingdom to have these amazing features.
Level: Intermediate
Duration: 1.5 hour