Kilnsey Trekking and Riding Centre offers horse riding lessons and stable management lessons for children from the age of four upwards and adults. We cater for people of all abilities, with tuition available for complete beginners, novices, intermediate riders and advanced riders.
Riding lessons take place in our 44 x 22 metre, purpose built, outdoor school and dedicated jumping paddock. Stable management classes are held in the stables and heated classroom.
Kilnsey Trekking and Riding Centre is a BHS Approved Riding School and an approved Pony Club Centre. All lessons are taught by registered BHS Qualified Instructors. Week long courses and pony camps for children are available throughout the summer holidays.
Booking details and prices can be found on our Bookings & Prices page.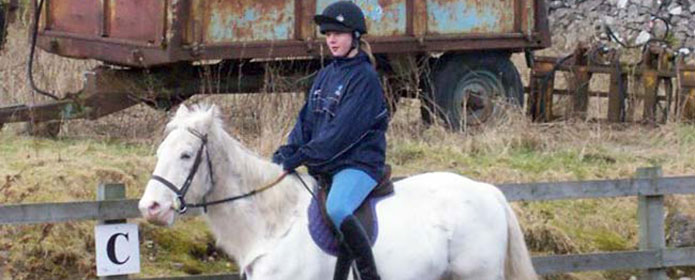 Riding lessons
Horse riding lessons at Kilnsey Trekking and Riding Centre are designed to enable riders of all ages and ability to learn the skills and techniques necessary to become confident riders. All lessons at our horse riding school are taught to the internationally respected British Horse Society and Pony Club standard. Weekly classes are provided for all levels of horse rider. Private tuition is available and can be tailored to individual needs.
BHS members can work towards each stage of the internationally recognised BHS examination syllabus and non-members will still benefit from the high standard of tuition from our BHS Qualified Instructors.
Stable management lessons
Our stable management lessons are carefully prepared to help children and adults learn progressively about all aspects of horse and pony care. As an approved Pony Club Centre our stable management courses work through the Pony Club Training structure, teaching all ages the knowledge required to care for horses and ponies.
Pony Club members can work towards their Pony Club Tests and Acheivement Badges while non-members benefit from the high standards or our approved Pony Club Centre.