Riding Holidays for Children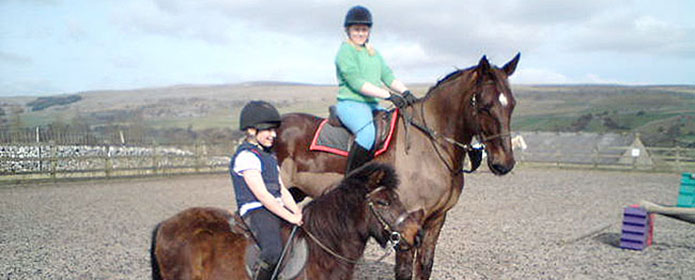 Pony Weeks
Pony Weeks are the perfect riding holiday for any child who has ever wanted to own a pony.  Each child is allocated their 'own' pony at the beginning of the week and they learn how to groom and care for their mount.  Children who have their own pony are welcome – they can bring it with them or ride ours.
These holidays are non-residential, although details of camping, bed and breakfast, or holiday cottage rental can be provided.
The day begins at 9am when the children collect their pony from the field and then groom and tack up before taking part in a lesson or going out for a ride.  A break for lunch then a short horse and pony care lecture with hands on experience before riding for a second time in the afternoon.  Then it's time for tack cleaning with drink and biscuits before heading for home at approximately 4.30pm.  Grooming and pony care are marked and points are added up for the Best Turned Out Trophy at the end of the week.  Friday afternoon culminates in a gymkhana with plenty of fun and opportunities for all to win rosettes.  Pony Club efficiency certificates and tests can also be taken during the week, for Pony Club members.
Previous riding experience is not necessary to join in – but a love of ponies is!
Children must bring a packed lunch, and warm and waterproof clothing.  The week runs from Monday to Friday inclusive, and parents are encouraged to come along on Friday afternoon to see the progress their child has made.
Please Note: Children will be split into groups based upon their riding ability; this is for their safety and enjoyment.  If this is an issue please discuss at time of booking. To secure a place on Pony Week, a non-refundable deposit of £25 is required per child per week and this this should be accompanied by a completed booking form. This years prices and our new booking form can be found here on our Booking and Prices page.